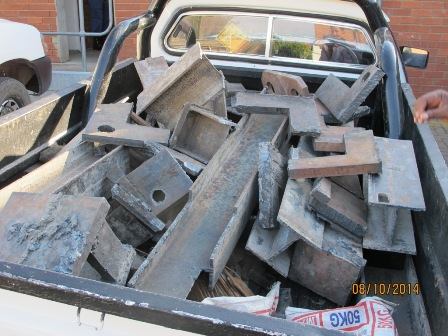 This morning, 8 October 2014, Ladysmith Visible Policing members were out conducting a crime prevention operation. At about 06:30 the members intercepted a vehicle in Illing Road, Ladysmith. The Ford bakkie was found laden with metal. The occupants aged 21 and 25 were unable to provide a proper explanation as to where the metal was obtained. The two have been placed under arrest and their vehicle has been seized.
Police suspect that the metal was stolen from a business industry in the Besters area. The steel is estimated to weigh in at close to 2 tons and is valued at around R30 000. The suspects will appear in the Ladysmith Magistrate's court soon. They face charges of being in possession of suspected stolen property.
The Provincial Commissioner of KwaZulu-Natal, Lieutenant General Mmamonnye Ngobeni commended the good work done by the members. "We appeal to the community to work together with the police by supplying information that will lead to the arrest suspects," she said.
In the photo from left to right is Captain S Singh, Sergeant M Pillay and Warrant Officer C Kriel.