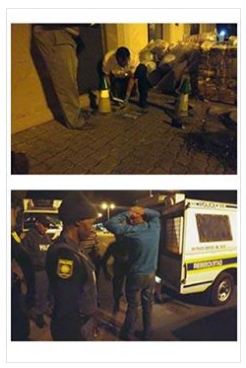 Police managed to thwart an armed robbery at Welkom on Friday, 03 October 2014.
The Station Commander of Welkom Brig Mzondi Mojafi immediately planned an operation to follow up on information which led to the arrest of five males aged between 26 and 36. They posted the members of Tactical Response Team (TRT), Thabong Cluster Task Team as well as Crime Prevention strategically to observe the movements of the suspects.
When the suspects realized that SAPS members were onto them, they fired on the officers. Nobody was injured during the shooting.
Two firearms were found on the scene, a Taurus 9 mm pistol with 4 live rounds and a 7.65 pistol with 8 rounds. The five men will be charged for attempted murder and robbery. They will appear at Welkom Magistrates' Court in due course.
The Free State SAPS Provincial Commissioner Lt Gen Thabethe Mpembe lauded the members for preventing the criminals from achieving their goal.
Also view: