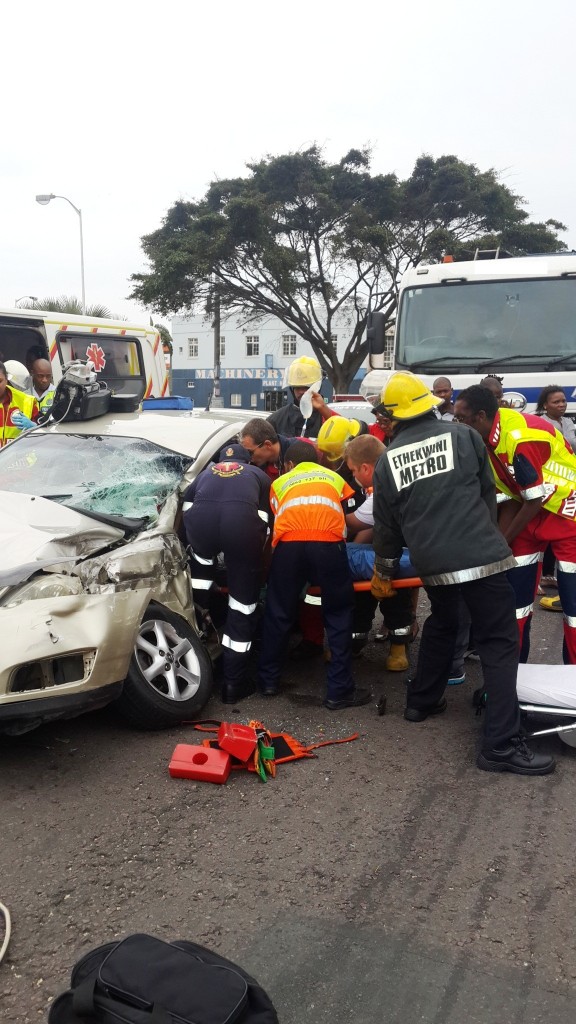 Three people have been injured one critically so after a T Bone collision on the corner of Berea Road and Warwick Avenue just after 12pm today.
Rescue Care paramedics arrived on the scene to find that a truck had collided with a car in a T bone form. The front seat passenger was entrapped in the wreckage and had sustained critical injuries. Advanced Life Support Paramedics From Rescue Care and ER24 worked tirelessly to stabilize the injured man whilst fire fighters used the jaws of life and other hydraulic equipment to free the patient. The man was placed on a manual ventilator by paramedics. Once he had been cut free he was carefully extricated from the vehicle. He was then transported by Rescue Care paramedics to a nearby hospital for the further care that he required. The two drivers also sustained injuries and were also transported to nearby hospitals by ambulance.
At this stage it is unclear what caused the collision however the necessary authorities were on the scene and will be investigating further.
Garrith Jamieson
Operations Director