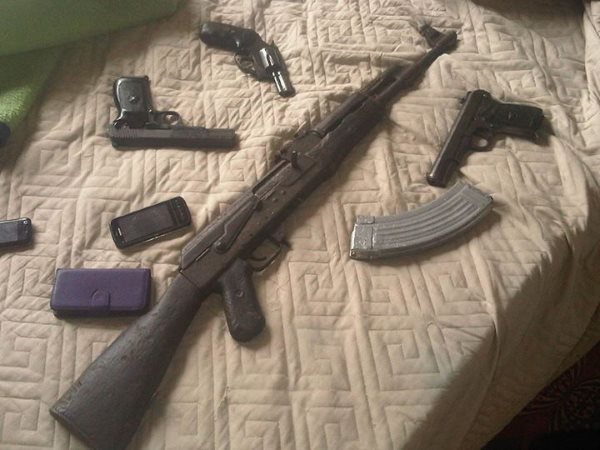 Three suspects were arrested on Wednesday morning for planning to commit a business robbery and possession of unlicensed firearms and ammunition. They are due to appear in the Umlazi Magistrates Court soon. The Durban Organised Crime Unit received intelligence from one of their sources of a planned business robbery at Folweni, South of Durban. Together with members of the National Intervention Unit, an operation was conducted. A vehicle was intercepted and the suspects were arrested. Following further investigation four unlicensed firearms including an AK 47 and three 9mm pistols were recovered at Umlazi. A Toyota Corolla which was stolen at Isipingo was also recovered during the operation.
In the second incident Melmoth SAPS arrested a suspect for a robbery of a wholesaler in the CBD of Melmoth. The suspect was one of the four armed men who entered the wholesaler on Wednesday morning, 1 of October 2014. The suspects held up the cashiers and fled with a substantial amount of money. Police officers who responded to the panic alarm at the shop saw the four suspects fleeing in a motor vehicle in the direction of Eshowe. They followed the vehicle and near "Oom Wessels Winkel" they spotted the vehicle next to the road. The four suspects had jumped from the vehicle and ran into the field. Police officers gave chase and when shots were fired at them they returned fire and managed to arrest one man who was shot in the arm. The others three managed to escape. The motor vehicle used in the commission of the robbery was recently reported stolen in Greenwood Park, Durban.
The wounded suspect (26) was admitted to hospital and will appear in court as soon as he is fit. The KwaZulu-Natal Provincial Commissioner, Lieutenant General Mmamonnye Ngobeni commended police in KZN for their efforts at the forefront of fighting crime. "Every day our police officers come under fire when they confront criminals, but this will not deter us from carrying out our mandate to fight crime. If anything it just spurs us on to fight crime in a more firm manner," she said.