Keeping the upcoming holiday season free of tragic vehicle crashes is the aim of N3 Toll Concession (N3TC). N3TC is the company responsible for the management and operation on the N3 Toll Route between Cedara in KwaZulu-Natal and Heidelberg in Gauteng.
A recent crash analysis by N3TC, for the period January to October 2014, found that the majority of crashes on the N3 Toll Route were either rear end or vehicles that have rolled. In 68% of the crashes, drivers lost control of their vehicles, which then rolled and left the road. These crashes cannot be contributed to poor weather conditions as 85% of the crashes happened when weather conditions were clear and dry.
This clearly indicates that speed, a lack of attention, unsafe following distance, impatience and overall negligent driving continue to be some of the major causes of crashes.
To further add to the serious concerns around driver's general lack of attention and high risk behavior , a recent average speed project along the N3 Toll Route indicated a high number of drivers averaging more than 160km per hour – whether day or night. Many drivers are also using their mobile devices while traveling.
N3TC believes the only real solution, to successfully address these safety risks, is through self-regulation –individual drivers taking responsibility for their own and other road users' safety.
"Tests done in Canada showed that you are four times more likely to crash when talking on a handheld, and 23 times more likely to crash when you text while driving. Using a mobile device while driving is considered as dangerous as driving drunk," says Con Roux, N3TC Commercial Manager. "We appeal to every driver to #bootyourmobile – only passengers should text or tweet."
The higher traffic volumes during the December holiday season exposes drivers to greater risks on our roads, and therefore N3TC and their partners are taking every precaution to make the route as safe as possible during this busy period.
"All indications are that this is going to be a bumper holiday season and we are expecting a substantial increase in traffic over this period, especially on peak days," says Roux. "Motorists should ensure they have essential provisions, such as chronic medication, baby necessities, food and water, to cope with the eventuality of protracted delays. They should also allow extra travel time at peak times and keep in mind that weather conditions can change quickly, causing roads to be wet and visibility poor. Always check the weather forecast before your departure for the entire route."
N3TC expects the following peak periods this Festive Season:
• Southbound (towards KwaZulu Natal) – Friday, 12 December between 10h00 and 22h00
• Southbound (towards KwaZulu Natal) – Saturday and Sunday, 13 and 14 December between 06h00 and 15h00
• Southbound (towards KwaZulu Natal) – Wednesday, 24 December between 10h00 and 20h00
• North and Southbound – Sunday to Wednesday, 28 – 31 December
• Northbound (towards Gauteng) – Friday to Sunday, 02 – 04 January
• Northbound (towards Gauteng) – Friday to Sunday, 09 – 11 January
Partnerships to bolster road safety
To ensure the N3 Toll Route is as safe as possible, IMPERIAL I-Pledge has teamed up with N3TC to enhance overall emergency capacity and be geared for any eventuality along the Route through the provision of 13 additional vehicles. These vehicles will be used for high visibility law enforcement, emergency assistance and route patrol purposes.
"We envision that these 13 extra patrol vehicles will provide further assistance on congested roads. With this highway patrol initiative we reiterate our commitment to ensure that all road users' journeys are safe and enjoyable – with the peace of mind that there is help available if they need it," says Niki Cronje, Group Marketing at IMPERIAL.
BMW South Africa has made available three additional technical support vehicles that are fully equipped to provide technical assistance during breakdowns and post-crash emergency support.
Motorists can expect the following support services and road safety initiatives along the N3 Toll Route:
• Strict law enforcement along entire route and traffic check points on key dates;
• Random testing for roadworthiness of vehicles;
• Enforcement of public transport compliance;
• Alcohol testing throughout holiday season;
• Medical Services with intermediate and advanced life support units will be based at strategic points;
• Medical rescue units and air ambulances will be on standby;
• Humanitarian groups will also be on standby for major crashes and support to crash victims; and
• Disaster and rescue trailers will be placed at strategic locations.
The Community Medical Services (CMS) team with specialised knowledge of the route will help to manage emergencies in the Van Reenen and Ladysmith region. This remarkable group of volunteer paramedics, nurses and doctors was founded by Philip Hull and has been monitoring the Van Reenen's Pass area of the N3 Toll Route for more than 30 years.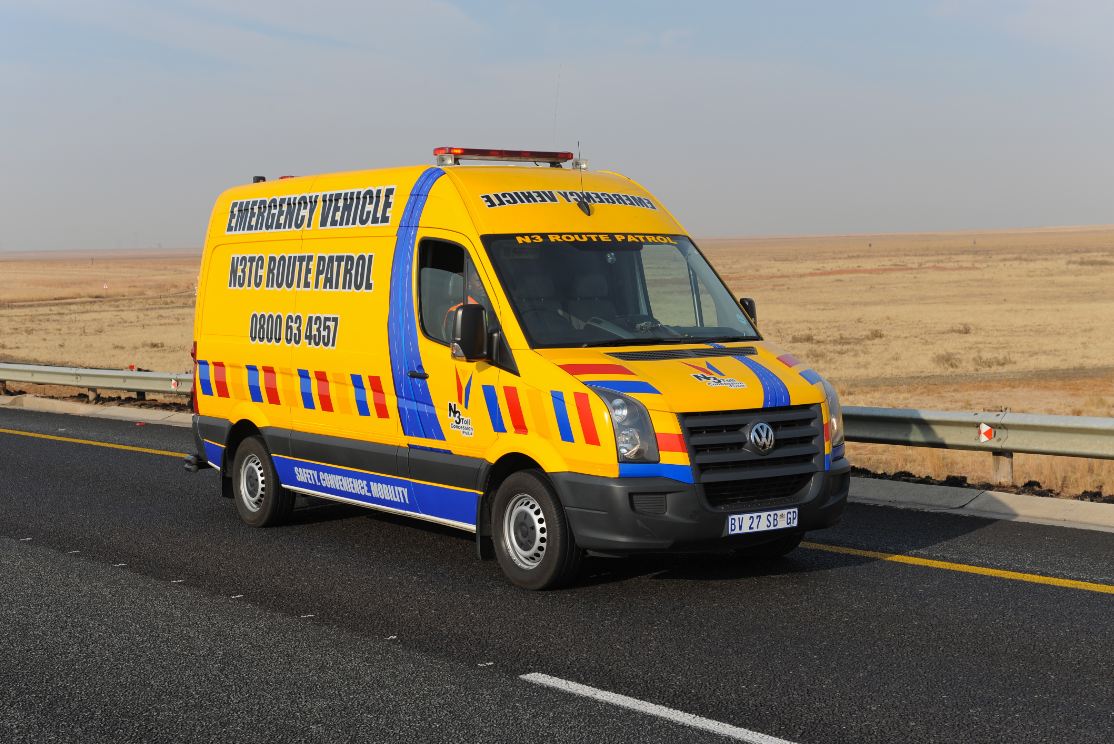 Payment methods along N3 Toll Route
Electronic Toll Collection (e-Tags) is not yet accepted as a method of payment along the N3. The following payment options are available for Class 1 vehicles:
• Cash
• South African Bank-issued Credit Card (VISA or MASTERCARDS only)
• Garage Cards
No debit cards are accepted.
Plan ahead – N3 Route Control Centre on standby to provide 24/7 traffic alerts
Before leaving home motorists are advised to obtain the latest road conditions for the N3 Toll Route to help them avoid unexpected problems on their journeys. Motorists can contact the 24-hour N3TC Route Control Centre on 0800 63 4357 (0800 N3 HELP) or talk to N3TC on Twitter @N3Route.
Should you experience any difficulties, along the N3 Toll Route between Heidelberg and Cedara, help can be accessed by contacting the Route Control Centre. Any of N3TC's six Route Patrol Teams will be dispatched to assist you. These highly trained teams of emergency specialists are geared to provide help at crash scenes and vehicle breakdowns. They also provide basic emergency medical care, assist with fire-fighting, remove hazardous objects from the road and provide regular route patrols to ensure conditions along the N3 Toll Route remain as safe as possible.
N3TC wishes everyone traveling on the roads over the holiday season, particularly the N3 Toll Route, safe travels and an enjoyable, well-earned holiday.