ER24 urges the public to refrain from making hoax calls.
Last year ER24 received more than 33 000 hoax calls.
Calls ranged from reports of non-existent collisions to people being in "distress" in remote locations.
Shockingly, adults contributed significantly to the number of hoax calls received by contact centre agents.
Calls received are so realistic that it is only realised paramedics were sent on a wild-goose chase once on "scene".
Shakira Cassim, the ER24 contact centre manager, urged hoax callers to think about the consequences of their actions.
"The risk is so high. Someone having a bit of fun can impact on another person's life. There are instances, especially over peak periods, where our vehicles are all over attending to real emergencies such as drowning incidents and collisions with multiple patients. Attending to a hoax call means that we have a vehicle unavailable to attend to someone really in need," she said.
Resources
Santi van Heerden, the ER24 contact centre co-ordinator, said hoax calls also impact on the company financially and waste resources.
"If we dispatch an ambulance to an incident reported by a hoax caller and we have to service a real emergency in the area while all ambulances are out on calls, we have to either dispatch an ambulance from a different branch or send a service provider. This means loss of income and impact on resources," said Van Heerden.
Cassim said although contingency plans are in place, these plans come with extra steps that need to be followed, thereby increasing the time taken to attend to an incident.
Consider yourself or a loved one not receiving urgent assistance in a life-threatening situation before making a hoax call. Parents are also advised to teach children about the danger of making hoax calls.
For further information or comment please contact ER24 Spokesperson Chitra Bodasing on 084 211 2277 or Multimedia Producer Pieter Rossouw on 084 407 3724. Alternatively, call 010 205 3111.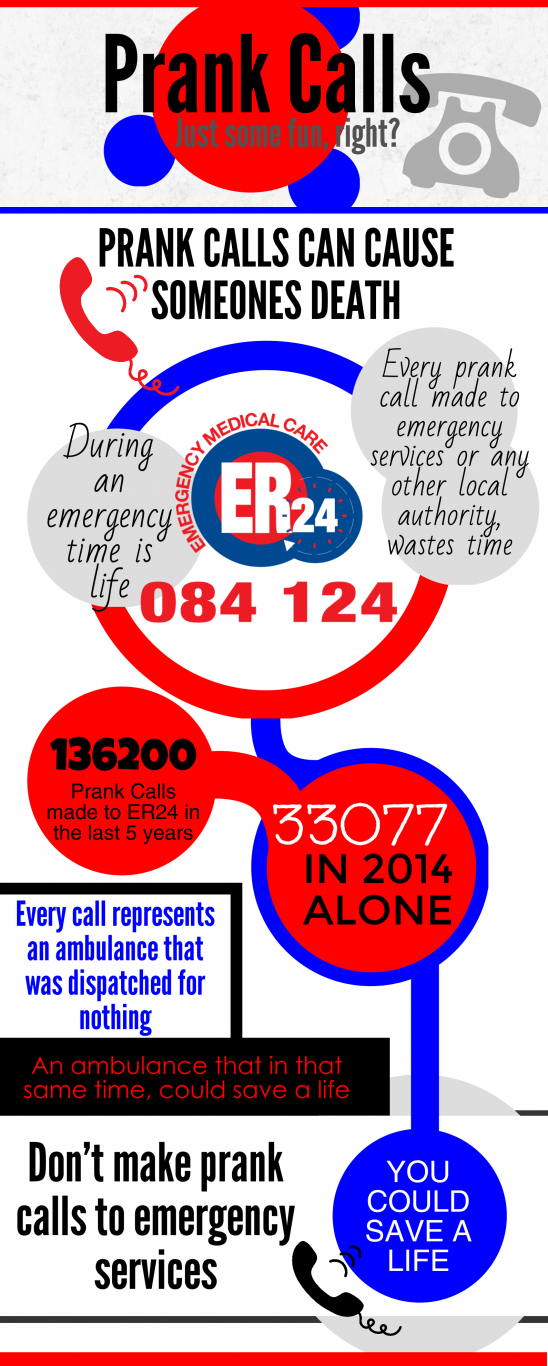 About ER24
ER24 is the premier private emergency medical care provider in South Africa that has been providing a range of quality emergency response and pre-hospital care services since 2000.
We operate from 45 bases throughout South Africa to provide realhelprealfast. Backed by a strong footprint in all major metropolitan areas and towns, we offer extensive support to both private and public hospitals throughout the country.
As a wholly owned subsidiary of Mediclinic International, part of the Remgro Group of companies, which owns and manages 52 private hospitals in Southern Africa, ER24's footprint extends globally. With 76 hospitals and clinics worldwide, Mediclinic is ranked as one of the top 10 private hospital groups in the world, based on the market capitalisation of listed private hospital groups. The Mediclinic Group also has interests in Switzerland (Hirslanden) and the United Arab Emirates (Emirate Healthcare Holdings Limited).
ER24 owns its national 24-hour emergency Contact Centre. This facility has the technological capacity to provide a broad range of emergency medical services, including dispatching of emergency medical resources by air. We employ 100 staff in various departments in the Contact Centre, with tasks ranging from taking calls to evaluating the nature and severity of a situation, and dispatching the resources necessary to contain a given situation.
ER24 is connected to an expansive network of emergency service bodies in an integrated scene management system. This allows us to draw on a variety of related services when emergencies arise. The Contact Centre also acts as a catalyst for ER24's Site Based Medical Services.