We shared the above sign on the Twitter handle at @_ArriveAlive with the message "Road signs across the globe to make you scratch your head a bit…"
We decided to ask our expert on the K53 whether this makes any sense at all..
Gavin responded as follows:
The parking duration cannot be longer than the period in which that duration applies. It just doesn't make sense.
These are two regulatory signs that the DoT has for parking duration. There may be more versions, but this is what they look like.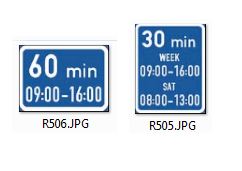 Gavin Hoole
Learner's Licence & K53
Driving Licence Test Info
K53.GavinHoole.ws