Gabriel has announced the winner of the second Toyota Etios Cross motor vehicle, Eric Matlaba, who purchased Gabriel shock absorbers from Naskar in Silverton.
The winner of the first Toyota, announced in May, was Peter Roberts. There are still the remaining two Toyota prize winners to be announced.
Prizes for the Gabriel Go competition include a total of four Toyota Etios Cross vehicles and 20 Moto Mia motor bikes. Customers who purchased Gabriel shock absorbers stand in line to win one of the remaining two Toyota vehicles. Participating motor/spare centres stand in line to win one of the 10 remaining motor cycles, through customer entries.
The five finalists purchased their Gabriel shock absorbers from Sonny's Midas Brakpan; Bumper to Bumper, Malvern; Thomas Tyres, Roodepoort; Tyremart, Halfway House; and Naskar, Silverton.
Mr Matlaba said he was delighted to have won the Toyota Etios Cross which would be the first brand new vehicle he has driven.
"Thank you to Gabriel and I will continue to support the product and the Torre Automotive Group," he said.
Mr Roberts, the winner of the first Toyota Etios Cross said his wife is the proud owner of the vehicle which he gave her as a Mother's Day present. "She is delighted with the vehicle and once again thank you Gabriel," he said.
Gabriel is a premier shock absorber brand of Torre Automotive. Gabriel South Africa has its own research and engineering facilities where prototypes are tested under laboratory conditions, as well as actual operating conditions, to develop products specific to the South African environment. Gabriel South Africa is ISO 14001, ISO9000 and TS quality rated.
Gabriel's strapline – "Be Safe. Be Sure" positions the brand with simple key words that create an emotive connection with customers, whilst emphasising the brand's quality and dependability. The Gabriel brand has always been about the entire value proposition to its customers. "Be Safe. Be Sure" encompasses this value proposition and is used throughout Gabriel's complete business model both internally and externally, says Francois Smith, Marketing Manager. Learn more about the eight signs of worn shocks by visiting the Gabriel website.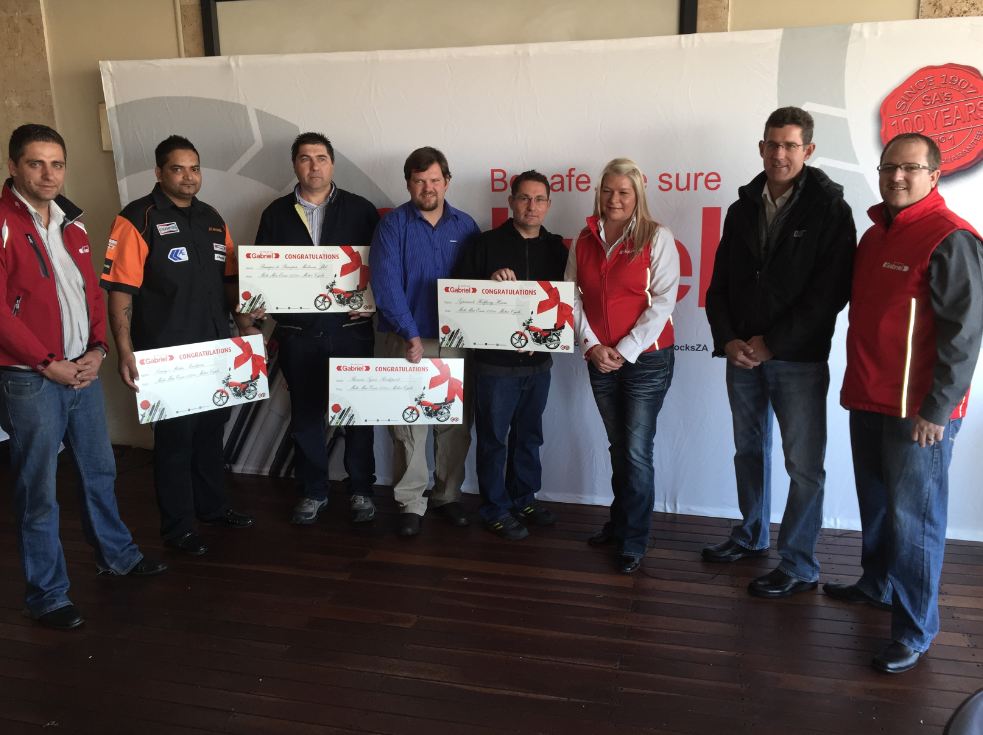 About Gabriel:
Gabriel is a leading brand of Torre Automotive (Pty) Ltd. Torre Automotive (Pty) Ltd. is a subsidiary of the JSE-listed Torre Industries Ltd, manufactures and distributes premium quality branded products to the automotive aftermarket in Sub Saharan Africa.
Gabriel has a proud history of innovation and achievement stretching back to 1907 when Claude Foster – the automotive parts pioneer who founded Gabriel in Cleveland, Ohio, USA – developed and patented the first shock absorber called the "Snubber".
The company continued to prosper in the suspension business, pioneering many more firsts – the first hydraulic shocks (1918), adjustable shocks (1956 and 1967), position and velocity sensitive shocks (1979), gas-charged twin tube shocks (1983) and velocity sensitive technology for shocks and struts (1996).
Gabriel first came to South Africa in 1935, importing all products from the US. Production in South Africa started in 1962 and sometime later, in 1984, Gabriel South Africa made its own contribution to Gabriel's innovative history with the design and manufacturer of the "gas springs" which were promptly adopted by Gabriel plants worldwide.
Gabriel South Africa's manufacturing plant is based in Retreat, Cape Town, producing shock absorbers, MacPherson struts, strut cartridges (pressurised and non-pressurised designs), and gas springs (Gabriel Gas Lift).
The state-of-the-art manufacturing plant houses its own research and engineering facilities. Prototypes are assembled, tested and re-tested here by qualified engineers under laboratory as well as actual operating conditions.