Introduction of advanced active safety technologies include Smart Cruise Control and Blind Spot Detection
New comfort and convenience features enhance practicality and upgrade Santa Fe's package
Exterior design refinements sharpen SUV profile and reflect the latest Hyundai family look
Hyundai Motor's SUV pioneer Santa Fe has made a fresh entry to the South African market with new design refinements and an advanced range of new active safety, comfort and convenience features.
The upgraded Santa Fe, available in two derivatives with an extensive Elite standard features package in South Africa, adopts the most recent Hyundai design features, with the signature hexagonal front grille and sharper profile visually uniting the range.
The Santa Fe R2.2 5-seater Elite uses a front-wheel drive system, while the R2.2 7-seater Elite is equipped with an All-Wheel Drive system that can be locked when needed.
Advanced safety and comfort features, including Smart Cruise Control and Blind Spot Detection further enhance the Santa Fe's appeal to SUV customers looking for assured quality with the latest technology. Subtle interior design touches and new materials emphasise its status as the brand's flagship SUV.
Design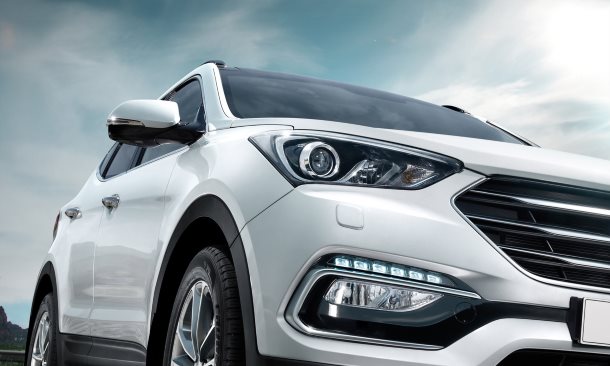 Design refinements bring New Santa Fe in line with latest SUV family look
Front and rear design refresh enhances athletic, modern presence
Interior further refined with addition of new high class materials and colours
The latest Santa Fe retains key elements of the Hyundai "family look", featuring the brand's hexagonal front grille, finished in chrome. Road presence is enhanced by new front and rear bumpers with redesigned fog and LED daytime running lights, framed with new silver trim.
At the front, a new layout for the xenon projector headlamps has been applied, while the rear lamps feature a fresh LED graphic.
The modern and bold exterior appearance benefits from newly designed 17", 18" and 19" alloy wheels that accentuate the model's refined lines while reinforcing the car's status at the top of Hyundai Motor's SUV line-up.
"The New Santa Fe features a number of important upgrades that emphasise its visual stance and athletic character," says Stanley Anderson, marketing director of Hyundai Automotive South Africa. "As the flagship car in Hyundai's local range and its SUV line-up, the Santa Fe benefits from several new technologies in the Hyundai stable, all contributing to a more luxurious and safer motoring experience," says Anderson.
Inside, Santa Fe remains a refined and comfortable place to be with updates to the console cluster and the navigation system presenting the car's sophisticated image. The relationship between design and functionality continues throughout the cockpit where new material and exterior colours build on the premium quality that has become the hallmark of Hyundai's flagship model.
Safety, comfort and convenience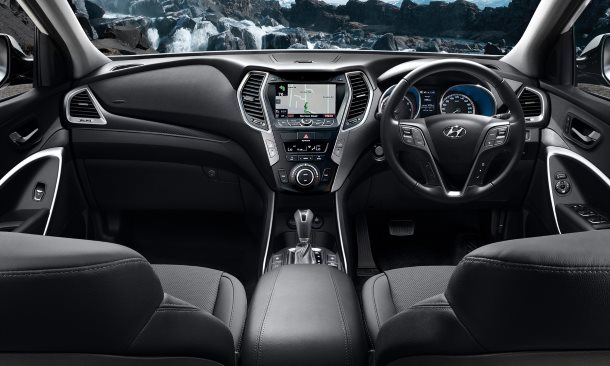 New advanced active safety technologies
New comfort features for enhanced premium feel
New audiovisual navigation system
Smart tailgate system opens at push of a button
Building on Santa Fe's high safety specification, the new Santa Fe introduces several new active safety and comfort features. In line with changing customer perceptions of the Hyundai Motor brand, enhancements boost the premium feel and sophisticated appearance of the new model.
Reflecting Hyundai Motor's global safety philosophy, new active safety features have been introduced to maintain Santa Fe's class-leading levels of equipment and occupant / pedestrian protection.
Traffic alert systems to highlight potential dangers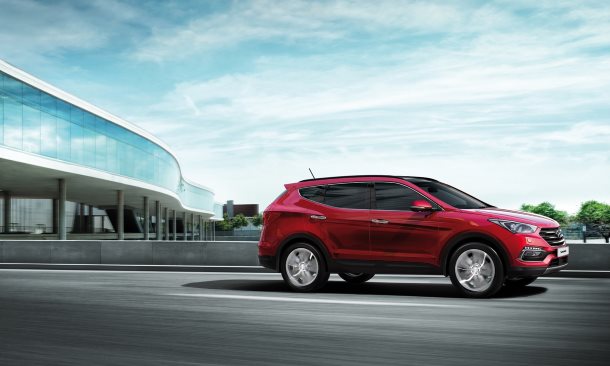 Adding further driver convenience and enhancing safety, Blind Spot Detection (BSD) technology is introduced to New Santa Fe. Using radar technology, BSD monitors the rear corners and, if another vehicle is detected, a visual alert appears on the exterior mirrors. If the driver then activates the indicators, an audible signal is emitted.
Using the BSD sensors, the Rear-Cross Traffic Alert (RCTA) system reduces the risk of collision with approaching traffic when reversing out of narrow areas with low visibility. Using a radar to scan a 180-degree area behind the vehicle for approaching cross-traffic, RCTA alerts the driver visually and acoustically.
Increased convenience through smart assist systems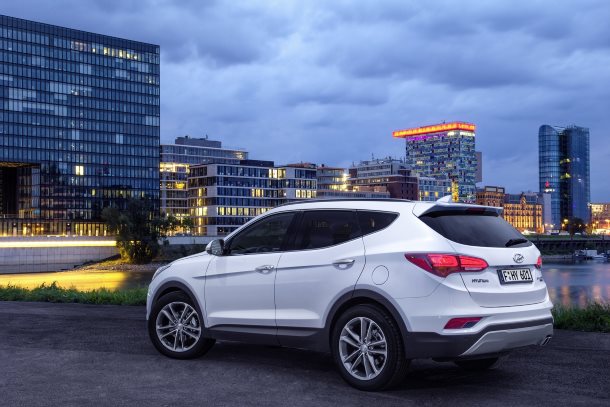 A new Smart Cruise Control function delivers a safer and more relaxing experience to the driver by maintaining a set distance from vehicles ahead, automatically decreasing the speed, or accelerating to a pre-set cruise in line with prevailing traffic conditions.
Inside New Santa Fe, enhancements are focused on presenting a premium feel with high-specification technology. Hyundai Motor's navigation system combines with premium sound to provide occupants with a high-quality interface, including the latest in-car audio technology.
Alongside these upgrades, passengers sitting in the new car's second row of sliding seats will benefit from greater space as an extra 15 mm has been added to the travel, boosting the adjustment to 270 mm.
Another new feature is the Smart Power Tailgate that opens at the push of a button – either on the tailgate door itself, or on the keyless entry fob, with an audible warning to anyone in the vicinity. This is particularly useful when loading shopping bags in the spacious luggage area.
Engine and transmission
The enhanced Santa Fe continues to benefit from the optimised powertrains and drivetrains developed by Hyundai Motor for the third-generation model.
Hyundai's powerful 2.2-litre CRDi diesel engine, developing 145 kW and 436 Nm of torque, is used in both the front-wheel drive and four-wheel drive Elite variants, coupled to a six-speed automatic gearbox that offers the option of manual gearshift. This engine delivers CO2 emissions and fuel consumption of 198 g/km and 8 litres/100 km respectively in the 2WD 5-seater Elite variant, and 206 g/km and 8,3 litres/100 km in the All-Wheel Drive 7-seater Elite derivative.
Three driving modes can be selected: Sport, Normal and Eco. The normal driving mode is selected by default, and the Sport or Eco mode can be chosen by pressing a switch on the instrument panel right of the steering wheel.
In Eco mode the gears shift slightly earlier to effect more frugal fuel consumption in a car that can boast with a figure of as low as 7,3 litres/100 km on the open road.
Pricing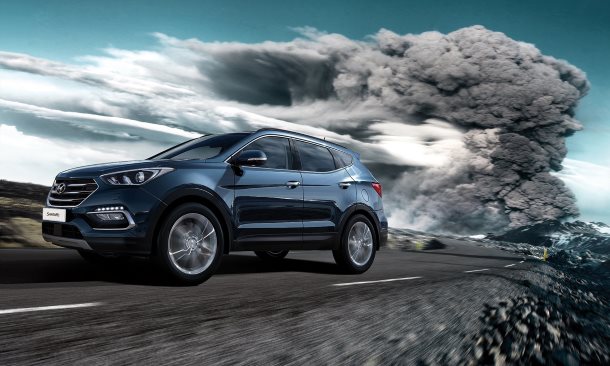 The prices of the two derivatives in the enhanced Santa Fe range are:
Santa Fe R2.2 2WD 5-seater Elite R659 900
Santa Fe R2.2 4WD 7-seater Elite R699 900
The prices of the enhanced Santa Fe range include a 5 years or 90 000 km service plan, and a 5 years or 150 000 km warranty and roadside assistance.
For further information contact:
Deon Sonnekus
General Manager: Corporate Communications
Hyundai Automotive South Africa
+27 (0)10 248 8000
+27 (0)61 355 1153