Traffic law enforcement learner transport operations by the Department of Transport and Public Works have commenced across the Western Cape.
Traffic officers will be checking that drivers comply with the legal vehicle safety requirements that enable learners to travel safely to and from school, and that drivers have the necessary permits to transport learners. Operators transporting learners are required to comply with the provisions of the National Land Transport Act. Their vehicles must be roadworthy and they must have all the necessary permits to transport learners.
During a learner transport blitz operation in Worcester on 13 January 2015, Provincial Traffic Services stopped and inspected 17 busses at Overhex Primary School, Breede River High School, Esselen High School and Worcester Secondary School. The licences of three vehicles were suspended until they have been certified as roadworthy and their owners have renewed the licences. A total of 31 fines in the amount of R32 400 were issued for various traffic violations such as operating without a licence permit, overloading and various vehicle defects.
Parents and caregivers are urged to join hands with the Department in its efforts to keep school children safe when they travel. They should take every practical step to ensure that private operators transporting their children always use safe, roadworthy and reliable vehicles, and that the drivers have the legal authority to transport learners.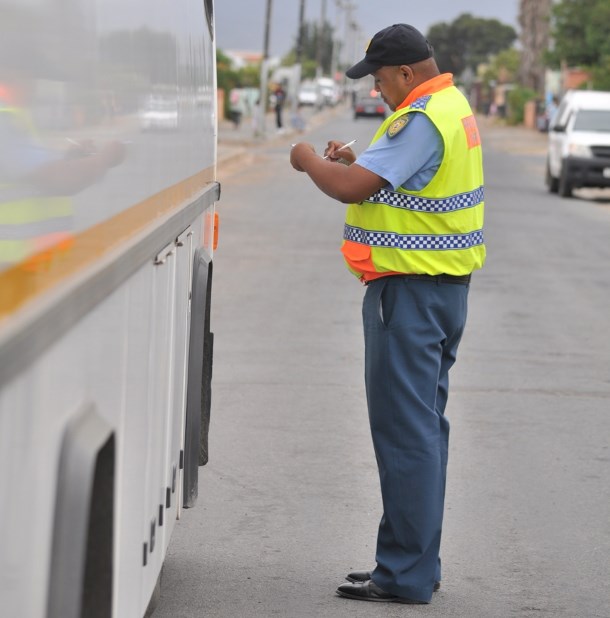 For the remainder of the year, the Department will be involved in various initiatives to help ensure road safety around schools, in collaboration with the Western Cape Education Department (WCED), local traffic authorities and road safety agencies. Most schools have a high awareness of the importance of keeping learners safe on the roads. Any parent or caregiver with any learner road safety concerns should speak to the school principal who can ask WCED for assistance.
Photos supplied by the Department of Transport and Public Works