I am delighted to be back in KwaMhlanga and to continue my engagement with communities in the Nkangala District on the role that transport and road infrastructure play in improving the quality of life of our people.
But first, let me start off by saying that as the ANC government we are committed to deliver on our mandate to provide good and well maintained roads as arteries for economic growth – and also to provide access to economic opportunities for our people.  We have 750 000 kilometres of roads and we spend R10bn to service and re-tar those roads every year.  Let me also state that only 2 500 km of our roads are tolled and the rest are paid for out of our taxes. Over and above that we are increasing our investment on the public transport to ensure the mobility of our people to access opportunities and push back the frontiers of poverty.
It is against this background that today as we the construction of the Moloto road development project – I am struck by the desires of the community to have access to economic opportunities and services that can lead to a better life for you and future generations.
But I am also equally impressed by the ongoing efforts by the leadership in the district and local municipalities who are working with traditional leaders, national government and the provinces of Mpumalanga, Limpopo and Gauteng to accelerate the development in your area.
This is a collective effort. As government we believe that you have placed your trust in our hands and that we as the elected representatives should represent you in our deliberations and policies, listen to your voices and aspirations and include those views in our decision-making and implementation.
The start of this project to upgrade the R573 is a clear demonstration of how government has listened to the views and concerns of residents and communities and is taking actions to respond to the issues that you have raised. We are responding to the presentations made by communities during our regular interactions and through traditional leaders and elected representatives in local, district and provincial spheres.
For a long time the state of this road has been a plight on the region. The Moloto Road has become synonymous with road crashes, bus accidents, injuries and deaths. It has robbed communities of breadwinners and beloved mothers. Parents had to stand at the open gravesides of their children. I know this all too well because as Minister of Transport I often attend the funerals of crash victims and have to respond to the unacceptable carnage on our country's roads.
As government we have elevated the issue of road safety to become a national priority. We have put policies in place, made changes to legislation and regulations, empowered our traffic law enforcement officials and allocated more resources to government agencies such as SANRAL to introduce engineering solutions that will lead to safer road environments.
We are learning from global experiences and are following the "safe systems" approach to road safety as adopted by the United Nations during this period, which is called the "Decade of Action" to bring down the accident rates on our roads. I recently attended the Global Road Safety Summit in Brazil where transport decision-makers from across the world gathered to discuss current trends in safety and to exchange information and practical advice. I was pleased to note that what we are doing in South Africa is in line with global best practice and that we are on the right track.
Our collective commitment, our energy and our resources are starting to bear fruit. For the first time we have seen a reduction in the number of crashes and fewer deaths on our roads during the recent Easter weekend. We are not claiming easy victories. There is still much to do and our efforts to improve this situation will not flag. But, at least, we are seeing the trends moving in a positive direction.
This is why the start of the work on the Moloto Road is of such importance to all of us. If we can bring down the rate of accidents on this stretch of the R573 we will demonstrate that we are indeed making progress in our broader efforts to improve road safety. Instead of the "road of death" this will become the "road of hope."
I am pleased to note that SANRAL has already started with a wide range of interventions in terms of road maintenance that includes the repairing of potholes, the cleaning of drains, the trimming of foliage on the side of the roads and the introduction of new road signs and line markings.
Through the years a number of illegal access routes have sprung up next to the road and this will now be closed off through proper fencing and new, safer walkways will be constructed. I want to appeal to you as the communities who will benefit most directly from the new road to keep issues of safety in mind and to guard against the invasion of the road reserve.
Our function today marks the start of the major upgrade programme which will cover the entire 139 kilometre of the R573 over the next five to ten-year period. This work will be completed in stages with the most critical 25 kilometre section receiving priority attention.
When government build new roads or upgrade vital sections such as this we also consider the role of infrastructure in the economic growth of our country and the contribution that this makes to job creation and enterprise development. The National Development Plan, which serves as the blueprint for our growth trajectory over the next two to three decades places a strong emphasis on infrastructure and identified our road network as South Africa's single most important public asset.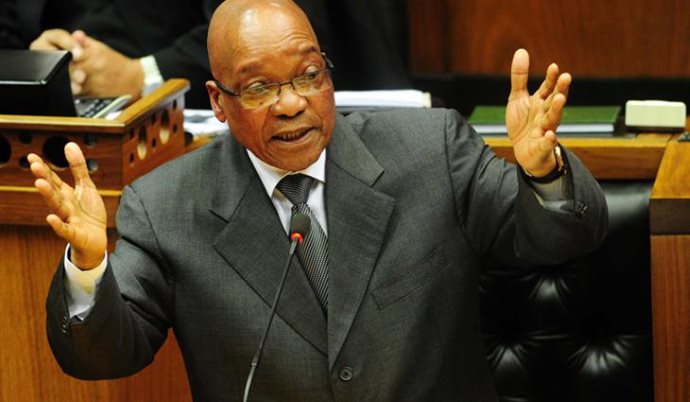 From this base President Jacob Zuma was able to announce the National Infrastructure Plan and the investment of more than R1-trillion in roads, rail, ports, energy, public transport, and health and education facilities. Work on the 18 Strategic Infrastructure Projects (SIP) that cover all provinces and all aspects of government's activities has already started and the provincial economies of Mpumalanga and Limpopo will soon start to experience the impact of these investments. Moloto Road Development forms part of SIP 1 which is aimed at unlocking the Northern Mineral belt with Waterberg as the Catalyst.
When completed the Moloto Road will become a symbol of more than just a safer road that enable its users to travel from one destination to another without being concerned about accidents or fatal injuries. But this road will also bring more economic activity to the district, enable small farmers to bring their produce to markets, be used as a route by tourists who want to visit game reserves and natural attractions in the region and facilitate the movement of people, products and services.
I want to emphasise the fact that road projects undertaken by SANRAL across the country are always accompanied by opportunities for job creation and training that benefit the wider community. In the past financial year SANRAL allocated contracts to the value of more than R2.4-billion to emerging companies owned by black entrepreneurs, women, the youth and people with disabilities.
In addition, SANRAL offers training and skills transfer programmes to the enterprises who work together with the major contractors. This enables small and local companies to gain experience, grow their businesses and improve their capacity to participate in bigger construction projects in the future.
During my visit here in April I spoke at length about the importance of the Moloto Development Corridor and the fact that we have handed over the project for implementation to the Passenger Rail Agency of South Africa. We also registered a public-private partnership and PRASA has started talking to the National Treasury about how this important development will be rolled out in phases over the next few years.
So this road will, no doubt, be one of the main features of the Moloto Development Corridor which will also include much needed investment in passenger rail to offer commuters a safer, faster and more accessible connection between Mpumalanga and Gauteng.
Last time were here, we also noted your complains about the bus service offered by Putco, and we have completed the review and assessment of this service especially the bus contract between Mpumalanga and Tshwane.  I'm therefore glad to announce that we have started the process of redesigning this bus contract to ensure that your concerns are addressed. We shall give you feedback in due course regarding this matter.
In a week's time our country will commemorate the 40th anniversary of the 1976 Soweto Uprising – an event that turned the tide of history in South Africa and culminated in the democratic transition of 1994 and the election of Nelson Mandela as the first President of our democratic country.
Many of you present here today come from my generation of activists who were inspired by the events of June 1976, joined grassroots organisations, and threw our support behind the struggle to achieve the full liberation of our country. Others are younger people who were born and grew up in a democratic South Africa built on the legacy bestowed to us by the 1976-generation.
Forty years later we can say without fear of contradiction that our struggle was not in vain. South Africa has become a model democracy and despite the many challenges that we still face we can proudly state that today is better than yesterday. And, through partnerships between government and communities such as the Moloto Road and the delivery of basic services we are ensuring that tomorrow will be even better than today.
As symbol of our confidence in the future we are also planting some trees here today. I am confident that the trees will grow and flourish together with the construction of this road and that both the trees and the road will bear fruit that will enrich the lives of this community.
I thank you.