Johannesburg: Want to celebrate spring with a bit of spinning action while doing your bit for charity at the same time? You can at the Sasfin Cyclethon, proudly hosted by Melrose Arch and powered by Planet Fitness on 16 September 2017, in support of the Smile Foundation and HospiceWits.
Media personalities and Smile Foundation ambassadors, Harry Sideropolous and Phylicity Rekeen, will lend their support to the event as MCs on the day, along with other local celebrities who will challenge themselves and each other on the spinning bikes as they raise funds for children in need of reconstructive surgery and educational development.
The cyclethon takes place on Saturday, 16 September 2017 in the Piazza at Melrose Arch, and members of the public are invited to sign up for the hour-long sessions and cycle next to their favourite Hot 919 FM radio presenter.  Hot 919 FM will be broadcasting live at the event and have been supporting the event by giving generously radio airtime in promoting the event.
This is the third year that Sasfin has supported the cyclethon as the headline sponsor. "Sasfin is proud to once again be sponsoring this wonderful family event that raises funds for two exceptional organisations. Both the Smile Foundation and Hospice Wits perform life changing work for many South Africans. At Sasfin, we go beyond, and we hope that Joburg will too and come out in massive support of these organisations." Says Cathryn Pearman Head Marketing and Communications of Sasfin.
The 2016 Sasfin Cyclethon generated a total sum of R300 000 (after expenses), which was evenly distributed between the Smile Foundation and HospiceWits.
HospiceWits elected to allocate the funds raised towards the continuation of early childhood learning for the 86 orphans and vulnerable children of its patients.
CEO of HospiceWits, Jacqui Kaye says, "It is vital for us to continue to provide our HIV/Aids infected or affected 2-6-year-old children at Mapetla Day Care Centre with a place of safety and a good Early Childhood Development (ECD) Programme.  In addition, the children receive regular medical and psychosocial assessments, supervised intake of anti-retroviral treatment, and daily nutritious meals.  It is a holistic programme and the children thrive in the stimulating, caring environment that offers a large playground area and a variety of educational equipment for their development."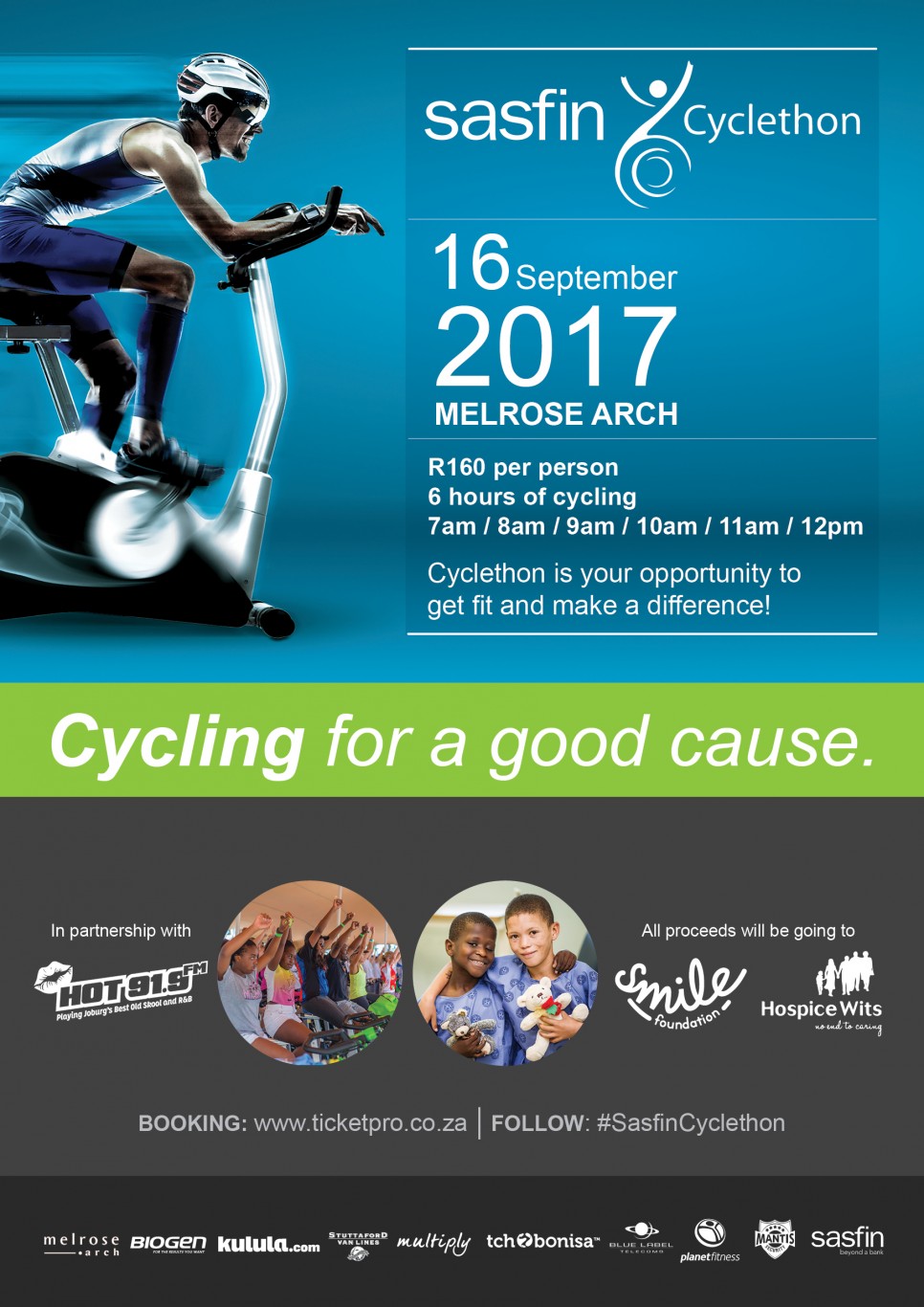 The Smile Foundation allocated its funds to the Friday theatre slate within the Department of Plastic and Reconstructive Surgery of a local academic hospital, to be used for facial reconstructive surgery for children.
"These funds have literally changed lives. By using them to facilitate critical facial reconstructive surgeries for children, we have helped to alleviate this surgical backlog. This has enabled more children who so desperately need surgery to finally get their operations, which is very encouraging, given that many children wait several years for their surgeries. Through the cyclethon, the public is having a direct and very positive effect in the lives of our country's children," says Hedley Lewis, Finance and Fundraising Executive of Smile Foundation.
"Supporting charity is important to Melrose Arch, and we are proud to host this event once again to raise funds for HospiceWits and the Smile Foundation," says Mike Vermaak, MD of Melrose Arch. "It's a fun day for the whole family. My team and I shall be cycling, and I encourage members of the community, corporates and schools to come and join us in supporting this worthy cause."
"Planet Fitness has supported the Cyclethon since 1996, and is proud to once again actively assist in the hosting of this event in 2017. We are honoured to support the Cyclethon at Melrose Arch, providing the spinning bikes and giving back to both charities. It's a great morning out to raise funds for kids in need while getting fit and having fun! We urge JHB residents to come cycle, to have some fun with us and to support this very worthy cause," says Manny Rivera, CEO of Planet Fitness.
Kick start your spring with a spinning workout for a good cause! Enter online at www.ticketpros.co.za or get down to the Piazza at Melrose Arch early on the day to register and book your spot. Entries cost just R160 per bike per hour, and the cyclethon runs from 7am to 1pm.