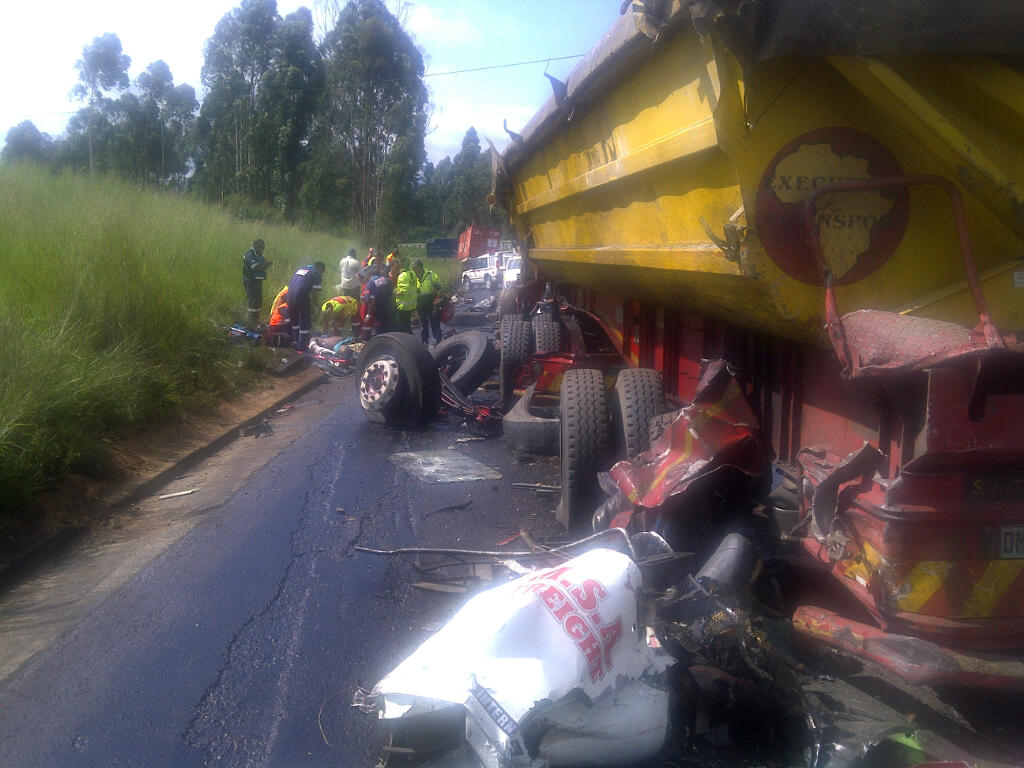 Two men have tragically died and another two men have sustained minor injuries after a collision on the N3 Pietermaritzburg bound before Tweedie on ramp, which involved two trucks colliding and closing the freeway completely.
ER24 paramedics arrived on the scene and found two trucks both in the left hand involved in the collision. The first truck was being extinguished by the Fire Department which had sustained extensive damage to the cabin. The second truck was found about 10m behind with massive wreckage strewed along the emergency lane.
One patient was found near the back wheel of the second truck; unfortunately the patient had already succumbed to his fatal injuries and was declared deceased. The second patient was found close by and in a critical condition. He had suffered massive traumatic injuries and needed advanced life support intervention. Unfortunately the patient died on the scene due to the injuries he had sustained. Both these patients are believed to have been ejected from the truck on impact. Two other patients both men sustained minor injuries after jumping from the first truck. They were taken by road to Northdale Hospital for a general medical check up. All four patients were travelling in the first truck that caught alight.
It is believed that the collision occurred due to the first truck may have had mechanical problems and tried to avoid the truck in front of him that was stationary because of a back log of traffic from a previous accident further on the N3. The truck driver came across into the emergency lane but the front part of the cabin caught the back end of the stationary truck causing it to rip open. The impact caused the cabin to disintegrate and caught alight.
RTI and SAPS were on the scene and would be investigating the incident further to the exact cause of the collision.
Derrick Banks
ER24