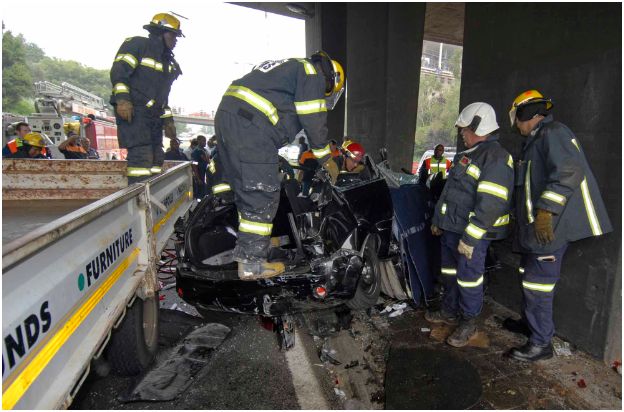 A female driver died and three others were injured in a snarl-up on the M1 south near the Jan Smuts off- ramp this morning just after 10h00. Details of this horrific accident will remain a subject for police investigation. An eyewitness reports that the driver of the Ford Fiesta lost control of the vehicle hurtled across the highway from the left side smashed into a two ton truck, then veered off and folded around a concrete pillar of the overhead bridge.
When Netcare 911 paramedics and doctors arrived on scene they found the driver and passenger from the Ford still trapped in the twisted remains of their car and in a critical condition. The passenger from the truck was seriously injured while the truck driver escaped with minor injuries.
Firemen worked tirelessly using the Jaws of life to free the critically wounded from the wreckage, while Netcare doctors and paramedics worked fervently to stabilise the injured. Sadly after an hour the critically injured female driver died due to the extent of her injuries. The other patients were transported by ambulance to the Netcare Milpark hospital for further treatment.
The roadway remained closed for several hours while emergency personnel treated the injured.
Chris Botha
Netcare 911