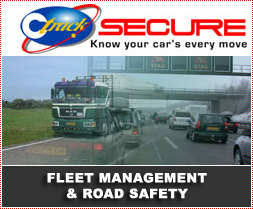 Leading South African-based Fleet Management and Vehicle Tracking company, DigiCore Holdings, has been short-listed for an award in the world's foremost telematics competition, the Telematics Detroit Awards 2009.
The annual competition recognises and celebrates the key companies that are driving the industry forward and pushing the boundaries in GPS technology, says Precksha Saksena, managing director and editor of Telematics Update, the influential telematics publication behind the Awards. Finalists for these awards stand out in an industry where innovation is expected as the norm.
Nominated in the 'Best Aftermarket Device' category, DigiCore, with its suite of C-track products, is up against some of the world's elite telematics developers including Hughes Telematics, Parrot and Wavecom Inc. as part of the finalists.
An Accolade for C-track
The award looks for an aftermarket device that demonstrates best-practise within the telematics sector bringing measurable benefits to the end user, including lower overheads, increased productivity and reduced environmental impact, says Nick Vlok, CEO of DigiCore Holdings.
An independent panel of industry experts from the digital, automotive, mobile and web industries have analysed the submissions and individually narrowed down each category to the respective finalists, Saksena says.
With an extensive client-base spanning six continents and over 400,000 systems sold, DigiCore Holdings is already a world-leader in the development, implementation and support of best-of-breed telematics systems, says Vlok: We can service fleets of all sizes with our C-track systems which deliver real operational and business benefits to fleets by reducing fuel consumption, validating overtime claims, eliminating unauthorised out-of-hours vehicle use, achieving more jobs per employee, enhancing service levels, increasing protection against vehicle theft and supporting environmental responsibility.
A proven winner
With the global recession set to worsen, fleet owners are looking increasingly at technologies that help streamline their operations and minimise operational expenses, Vlok explains: Fleet Management systems are becoming a standard business tool and DigiCore has over 15 year's experience in implementing and supporting telematics in large fleets both locally and overseas and 27 years on Fleet Management. We literally have hundreds of thousands of vehicles fitted with C-track around the world in major fleets like BHP Billiton, Royal Mail, Thames Water and South African Police Services. This experience has proved the merits of our products and services and puts us in with a fighting chance come, the big night.
For a telematics company wishing to showcase its abilities to the top brass of the automotive industry, this Telematics Award offers the ideal platform. Vlok adds: The guest list is impressive and all the big name vehicle manufacturers will be represented by their CEOs and other senior executives. Being short-listed has positioned DigiCore amongst the leading providers of telemetry solutions globally, which will contribute to a stronger brand and raise our profile within our regions of operation.
Now in its eighth year, the Telematics Awards offer both publicity and prestige to its winners and finalists.
We are honoured to be recognised among so many leading companies, as a finalist and winning the award, would represent a massive boost for our company. It would reflect the hard work and great team effort that is taking place across all areas of the business to develop products and services that represent real advances within the telematics sector and add value to our customers, Vlok concludes.
Winners will be announced on June 2nd at a gala dinner at the end of the first day of the 9th annual Telematics Detroit 2009 Conference & Exhibition in the USA.
[ DigiCore is a Partner to the development of the Arrive Alive road safety website]